Vita for Norma Y. Leben
Early Work: Norma Yau-Chee Leben began her professional career in Hong Kong after graduating in 1974 from the University of Chicago, School of Social Service Administration, with a Masters Degree in Social Service Administration. Her first position was as Youth Center Supervisor for 13 youth centers during which time she pioneered outreach programs for "street-wise" adolescents. During her five years in Hong Kong, she conducted numerous leadership and motivational workshops based on her experiences with underachieving children. Based on her research, she authored a book in Chinese, Motivational Workshop for Underachievers, which is now in its second edition and third printing. In 1976, she was selected to be a member of the Ten Outstanding Young Persons of Hong Kong.
CPS and Treatment Supervision: In 1979, Norma lived in Wooster, Ohio where she became Supervisor at Wayne County Child Protective Services. For two years, she supervised investigators and caseworkers and testified in court for many child abuse and neglect cases.
After moving in 1981 to Austin, Texas, she worked as a Residential Treatment Supervisor for emotionally disturbed children and also lead counselor with a nonprofit that coordinated community services to prevent school drop outs in a large Austin public high school.
In 1987, she founded Morning Glory Treatment Center for Children (MGTCC) as a nonprofit corporation licensed by the State of Texas to provide residential therapeutic foster group home services to dual-diagnosis children. Over 10 years as its Executive Director and Treatment Supervisor, Norma provided treatment and supervised staff caring for 40 children with ADHD and special needs. Currently, MGTCC provides only play therapy consultations, phone referrals, training and parenting workshops, and public speaking.



Certifications & Honors
Norma is a Registered Play Therapy Supervisor (RPT-S) and over 24 years member of the Hill Country Chapter of the Association for Play Therapy and Association for Play Therapy .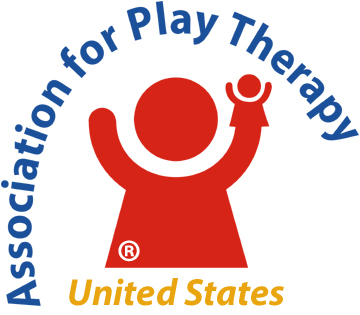 She has been recongized with Professor Status from the Play Therapy International (CPT-P). She is also a social worker in Texas holding a Licensed Clinical Social Worker-Supervisor qualification (LCSW-S).
In 1989, the Regional Network of Children honored Norma for Exceptional Services to the Youth of Texas. Her social work alma mater, the School of Social Service Administration, University of Chicago, recognized her publications in 1997 as part of a conference about Innovations in Social Work Practice. Norma was listed in the International Who's Who Professional Directory in 1994 and 1995. In April 2003, she and her husband funded an Endowment for Excellence in Play Therapy Methods and in 2012 a Professorship in Child and Family Behavioral Health at the University of Texas at Austin, School of Social Work. The Leben Endowment sponsors several MSW student scholarships and the Annual Play Therapy Symposium. She currently serves on the Advisory Council of the UT School of Social Work.
On January 26, 2013, Norma was awarded the Tom Hoeffner Play Therapy Stipend Award by the Hill Country Chapter of the Texas Association for Play Therapy in acknowledgment of outstanding education, training and professional service to the community that significantly develops, promotes and advances the value of play therapy.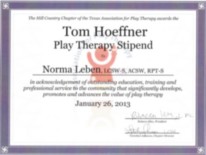 In 2013, Norma was chosen by the Association for Play Therapy to receive its 2013 Key Award for Public Education and Promotion. Other recipients were honored for Lifetime Achievement, Professional Education & Training, and APT Service. Recipients were honored at the October 11 Recognition and Awards Dinner during APT's 2013 Conference in Palm Springs, California.

Publications


In 1993, Norma compiled 21 years of her therapy techniques helping children and families into the book Directive Group Play Therapy that describes 60 tried-and-true childrens games useful for therapists, teachers, counselors, and parents. She also created the colorful Feelings Wheel Game, a board game that facilitates the expression of 64 feelings and emotional intelligence. Both products were translated to Chinese and are distributed by Greenfield Education Center in Hong Kong.
Beginning in 1995, Norma directed the production of training videotapes including Anger Work With Children: How to Focus, Control, and Resolve, ADHD Kids: Engaging Attention to Modifying Behavior (3 programs), Directive Filial Therapy (4 programs), and Sexual Abuse of Children: An Inside Look At Treatment.
For parenting difficult children she designed The Smiley System For Compliance and Responsibility Training. The concepts in this training kit helped hundreds of parents turn around their undesirable behavior.
In addition, Greenfield Education Center, Hong Kong publishes 40 audio CDs and VCDs of Norma's Cantonese lectures about parenting and disciplining children. Her latest published titles are about Emotional Intelligence (EQ) and Adversity Quotient (AQ). Click here for Norma's resume in Chinese.

Public Speaking: Known for her enthusiasm, experience, quick wit, and no-nonsense, pragmatic speaking style, Norma's Hong Kong public lecture tour has grown in popularity every year. She returns annually to speak to PTA's, primary and secondary school teachers, business leaders, social service professionals.
She has also presented at recent International Society for Child and Play Therapy/Play Therapy International conferences in England, Ireland, Toronto, Beijing, Macau, Hawaii, Oregon, as well as for many Texas groups and school districts. Email me about your in-service training needs.