Directive Group Play Therapy: 60 Structured Games for the Treatment of ADHD, Low-Esteem, and Traumatized Children



Over 26,000 copies sold internationally! This is the book everyone's talking about--especially educators, play therapists, parents, and child care professionals. If you have been looking for effective, tried-and-true, grade-school-age activities, this is the book for you. Learn more >>

The Feelings Wheel Game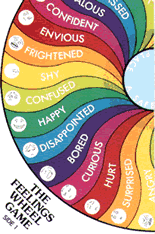 My win-win Feelings Wheel Game introduces 64 feeling words in a way that every player enjoys.
Promotes verbal and nonverbal expression.
Improves confidence and empathy with others.
A wonderful tool for parents, teachers, and therapists.
Learn more >>

Why I Invented My Games
I invented my treatment methods as a child

protective services supervisor and clinical social worker in residential facilities. Partly for survival reasons, and partly for the challenge, I invented fast-paced games that used low-budget, recycled materials that sustain the interest of even the most hyperactive, difficult, multi-problem children, for example, those with ADHD, ODD, Conduct Disorder, and Reactive Attachment Disorder.
I drew upon all my training and experiences in social group work, corrections, behavioral psychology, and recreation to create my games. These games are tried and true because I have tested them with the toughest kids. They really work. Persons I have trained in different countries and cultures all report positive results too.

We Recommend
(June, 2008) Favorite Therapeutic Activities for Children and Teens: Practitioners Share Their Most Effective Interventions is a publication which highlights play-based techniques from invited practitioners and includes three games written by Norma Leben, LCSW, RPT-S, CPT-P based upon her book Directive Group Play Therapy. This book is edited by internationally renowned play therapist Liana Lowenstein, MSW, RSW, CPT-S and is available at www.lianalowenstein.com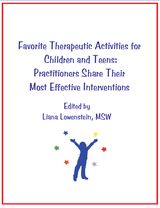 Register to use the PayPal shopping cart with your credit card.

Contact me. We offer discounts for multiple copies and wholesale orders. School or business purchase orders accepted.