All Good Things Are Earned!
The Smiley System for Compliance and Responsibility Training for Children

The Smiley System is a deceptively simple token economy system Norma invented to reinforce discipline, compliance, and teach children accountability, especially those diagnosed with ADHD, ODD or ASD who may not listen well to verbal requests and directions. Parents instantaneously reward desired child behaviors and chores with Smileys and remove Smileys for misbehavior! Children see they can earn tokens to redeem for privileges. Likewise, they also see how quickly their earned smileys can disappear with continued acting out or non-compliance to adults' requests. Empowered parents use this "game" to encourage children to exercise their choice of actions in order to get good things in life.
How it Works
Put the Smiley System board where everyone can see it and your children will count their Smileys often. Put Smileys on the board ASAP as they are earned or remove them for misbehaviors. After bedtime, the number of Smileys still on the board are recorded. At the end of the week, children receive allowance money or privileges based on the total Smileys earned.
Norma's 64-page Handbook clearly explains how to start and develop child compliance with answers for 21 frequently asked questions (FAQ). Read Norma's 10 Principles of Parenting and Logical Consequences and the Handbook's Table of Contents (10 page PDF)
What You Get
Kit includes: Smiley System Board, 60 Smiley cutouts, a chore chart, name cards, no-whining poster, weekly Smiley logs, cue cards of reminders/consequences and a 64-page Handbook. Smiley Board is 19" x 25" sturdy, tri-fold card stock with clear, vinyl pockets for displaying Smileys. The included Handbook answers 21 questions on how to use the system.
Smiley System Works!
Grace, a Hong Kong mother, told Norma about her success after only a few weeks using the Smiley System Kit. She reported improvements in her son's independent living skills, following first requests, being on-task with home work completion, using more feeling words, making proper apologies, and accepting responsibility for misbehavior. Needless to say, Grace was proud of these changes and her son was happier too. (Chart in Chinese, PDF)
Teaches children "all good things are earned!" Every week on payday Smileys are converted to allowance or quality time with parents or special activity rewards.

Effective with children ages 3 to 17+ and especially kids with ADHD, oppositional defiant disorder, conduct disorder or ASD.

Handbook includes examples for giving and taking Smileys and 21 FAQ about how to use Smileys in different parenting situations

Simple to use, win-win solution for both children and their parents and care givers

Reinforces parenting roles and enhances the parent-child relationship

Reinforces values like respect and honesty

Allows parents to respond quickly and confidently to misbehavior

Facilitates a proactive approach to discipline

Provides a visual reminder for behavioral performance

Develops a child's good judgment and self-discipline by exercising choices

Turns parent-child adversary positions into a win-win partnership

Promote a child's ability to delay gratification

Provides a tangible framework for logical consequences


Price
$35 plus shipping and handling. International shipping is available.
Kit includes: Smiley System Board, Smiley cutouts, a chore chart, name cards, no whining poster, weekly Smiley logs, and a 64-page Handbook.
19" x 25" sturdy, fold-out card stock with clear, vinyl pockets for displaying Smileys.
Includes all the supplies you need!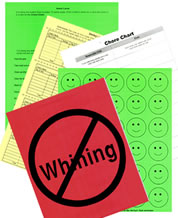 Register to use the PayPal shopping cart with a credit card.

Contact me. We offer discounts for wholesale orders. School or agency purchase orders accepted.