The Shortest Distance Between Two People Is A Feeling Word
The Feelings Wheel Game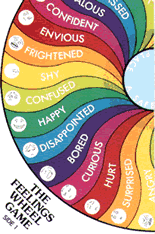 A liberating, entertaining activity that teaches 64 feeling words while facilitating individual and group decision-making. Serves as a foundation for developing children's emotional intelligence, empathy, and meaningful, enriching relationships.
Great tool for teaching purposeful expression of positive and negative feelings, social and communication skills, and anger control.
Two colorful 16" x 16" game boards— one and two. One has 32 feeling words plus drawings of facial expressions to help children with their visual awareness of emotions. The second board has 32 more feeling words. Includes a helpful glossary for all 64 feeling words.

Colorful, rubber markers are included for up to 8 players plus two dice

Printed companion guide describes game possibilities, glossary, helpful playing hints, and suggestions for professional use
Over 26,000 sold in the USA and overseas; now in its 8th printing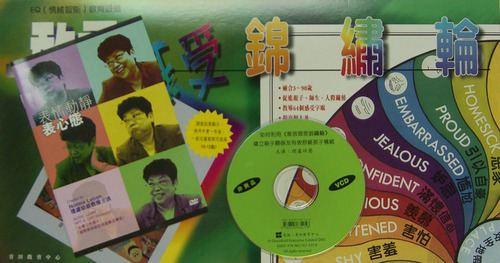 Price
Travel Verion
$25 plus shipping/handling. We call it "travel" because everything is packaged in a clear, sturdy, easy-to-carry re-sealable bag.
Deluxe Version
$32 plus shipping/handling. The deluxe version is the same as "travel" version except it is packaged in colorful storage box and includes a 10-minute "Getting Started" video DVD to show children.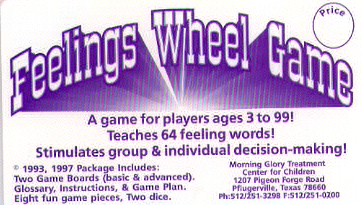 Register to use the PayPal shopping cart with your credit card. If you are not completely satisfied, just return our product within 30 days for a no hassle refund.

Email us. We offer discounts for multiple copies and wholesale orders. School or business purchase orders accepted.