Our New DVD!
ADHD Parenting Success: How to Improve Your Child's Behavior Today!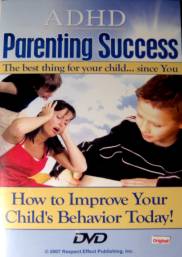 Our latest DVD, created by Norma Leben and Debra Wendler, explains reasons for child misbehavior and ways to prevent or manage them by means of providing structure, routines, schedules, chores, rewards, and logical consequences, which are all incorporated in the Smiley System.
This DVD is full of practical tips for any parent who needs a mega dose of confidence and win-win solutions in maintaining their parent-child relationship!

Topics - You'll Learn!
This DVD will show you:
How to to use six-second "one-liners" reinforced by congruent hand gestures and the assertive Power Stance.
How to use "its your choice" language.
How to get your child to help you, not fight you. You'll see real-life situations that any parent witll recognize!
Norma also shows how parenting effectiveness flows from regularly telling your kids how you feel instead of tolerating their misbehavior or exploding later in anger.

Sales Price
$39 plus shipping and handling.
Includes one DVD and printed viewing companion. Viewing time about 90 minutes.

Register to use the PayPal shopping cart with your credit card. If you are not completely satisfied, just return our product within 30 days for a no hassel refund.

Contact us for discounts for multiple copies and wholesale orders. School or business purchase orders accepted.
More video titles: